Customer Service +33 (0)4 86 22 05 00
Monday to Friday from 9am to 5pm
Manuka honey
Manuka honey from New Zealand


The Maori health tree

A thousand years ago, the Maoris left Hawaiki, their homeland in the heart of tropical Polynesia, seeking new lands. After an epic journey of more than 3000km, they discovered the shores of a land they called Aotearoa, the long white cloud. They had just landed in New Zealand.

On their arrival, the Maoris gradually tamed their environment, especially the plants that the Tohunga, the healer, observed, tasted and used little by little in the Rongoa Maori, the traditional medicine. Several species of plants, unknown until then, are offered to him. He studied them and put them to the test. Some of them proved to be very effective and revealed great potential. They were then incorporated into his traditional medicine.

Among them is a shrub with fragrant leaves and small highly perfumed white and pink flowers that abound on these islands. The Maoris call it Manuka or kahik ā toa. Manuka is a shrub from the Myrtaceae family, a cousin of the Tea Tree, which grows wild in the virgin lands of New Zealand in harsh climatic conditions.

Leptospermum scoparium, the botanical name of the New Zealand endemic Manuka, only flowers for 4-6 weeks a year. This means that bees have a very limited time to gather its incredible nectar. This is why Manuka honey is such a rare and valuable superfood.

The leaves and bark were boiled and then ingested as a decoction to relieve various ENT ailments. When applied, they had an effect on superficial skin disorders and a specific action on the skin.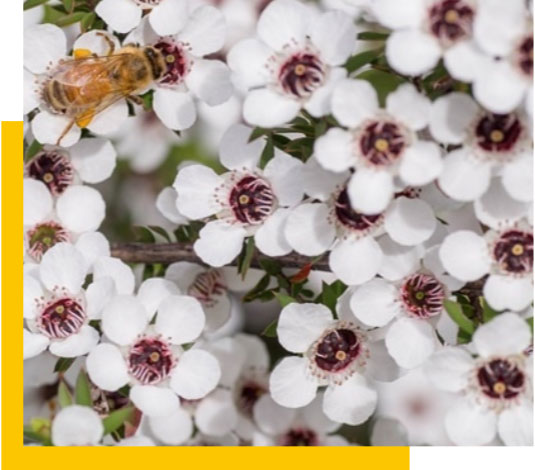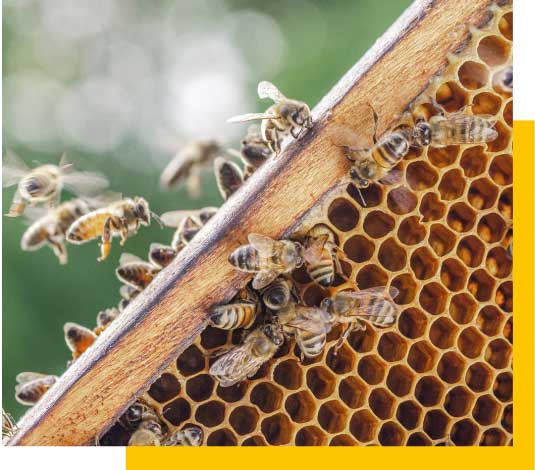 Honey, nature's richness

Honey is a natural product that has always been known for its antiseptic properties.

All honeys have a natural antibacterial activity linked to 3 factors: its acidic pH, its osmolarity and hydrogen peroxide, more commonly known as hydrogen peroxide, a chemical compound created by an enzyme deposited by bees in the nectar. Naturally present in all honeys, it is this hydrogen peroxide that gives it its antiseptic properties.

However, hydrogen peroxide is quickly degraded by other components of honey, such as ascorbic acid and certain metal ions. Thus, while this molecule is effective in a laboratory test tube, it is destroyed when it comes into contact with body fluids and tissues. This molecule therefore has limited effectiveness in humans.
The unique activity of Manuka honey

Over 20 years of research, including those conducted by Professor Peter Molan of the University of Waikato in New Zealand, has shown that some Manuka honeys have an additional activity that remains active in vivo, unrelated to hydrogen peroxide: non-peroxide activity.

Therefore He set up a laboratory test protocol called the Non Peroxide Activity test (NPA). This test involves isolating hydrogen peroxide (which is partly responsible for the antibacterial activity of all honeys) to determine and measure the unique activity of Manuka honey.

In the 1980s, Prof Molan developed a classification based on the level of activity of the honey as demonstrated by the NPA test. This is known as the UMF®, Unique Manuka Factor or IAA®, which stands for « Indice d'Activité et d'Authenticité » (Activity and Authenticity Index). The IAA® on our products gives you the assurance of unique activity and authentic New Zealand honey.

This index is equivalent to an aqueous solution of concentration X of phenol. If the activity of Manuka Honey acts in the same way as a 10% aqueous solution of phenol (90% water/10% phenol), then the honey carries a 10+ rating. Similarly for a 20% phenol solution, then the honey is rated 20+.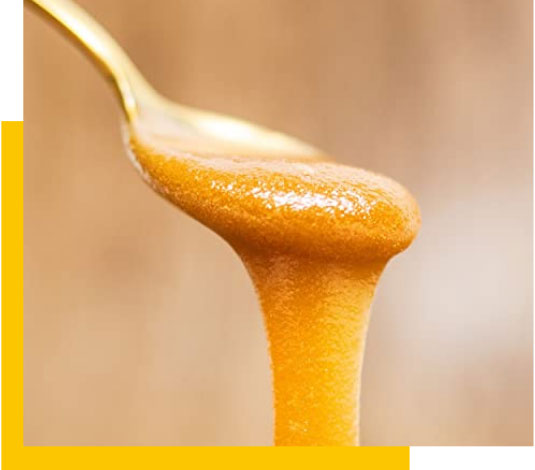 The level of activity of Manuka Honey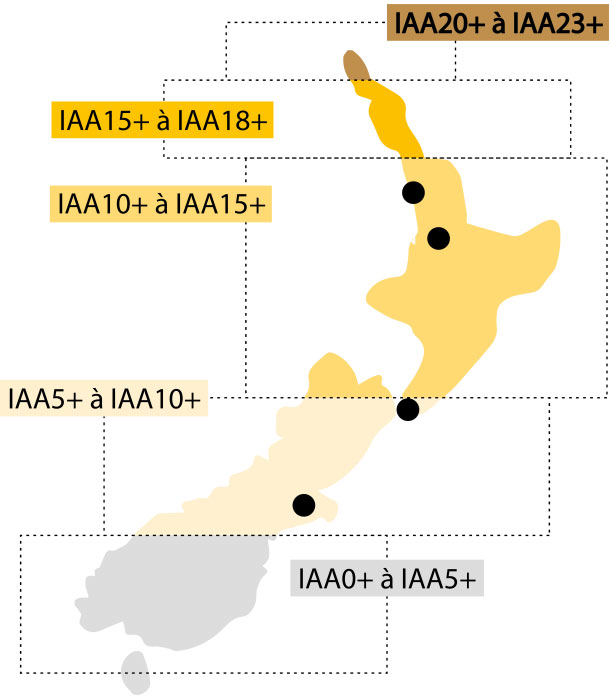 In the 2000s, research led by Professor Henle of the University of Dresden in Germany demonstrated that the non-peroxide activity of Manuka Honey is due to a unique combination of molecules. Methylglyoxal (MGO) is one of these active molecules, which is partly responsible for the activity of Manuka honey. These studies show that some Manuka honeys can contain up to 700mg of methylglyoxal per kilo, a concentration 70 times higher than in conventional honey.
The higher the index, the greater the activity of the honey.
The degree of activity of honey depends on its territory of origin.

** Minimum guaranteed methylglyoxal level in mg/kg.
The degree of activity of honey depends on its territory of origin. New Zealand is made up of two islands, the North Island and the South Island. The most active honeys are found in the North Island.
Find the guarantees of Comptoirs et Compagnies thanks to the following of the IAA® charter of a strict quality in order to offer you exceptional products : IAA® Charter
How to choose your honey according the different index?
We offer you a range of
Manuka honey
from IAA5+ to the exceptional IAA23+.
| | | | | | | | |
| --- | --- | --- | --- | --- | --- | --- | --- |
| IAA® | IAA5+ | IAA10+ | IAA15+ | IAA18+ | IAA20+ | IAA23+ | IAA2+ |
| MGO | 83 | 263 | 514 | 696 | 829 | 1046 | 19 |
| Activity level | Low | Significant | Optimum | High | Very high | Very high | Low |
| Use | Daily use | To get ready for winter | To get ready for winter | Targeted use | Targeted use | Targeted use | Daily use |
Find the unique properties of IAA® Manuka Honey in our full range of
Active care
and
Organic certified cosmetics
Free delivery from 40 €
(with DPD in a relay point)
Customer service
Monday to Friday from 9am to 5pm
+33 (0)4 86 22 05 00
| | | |
For your health, eat at least five fruits and vegetables a day.
For your health, engage in regular physical activity.
Our packaging can be the subject of a sorting deposit (consignesdetri.fr)
0 ms